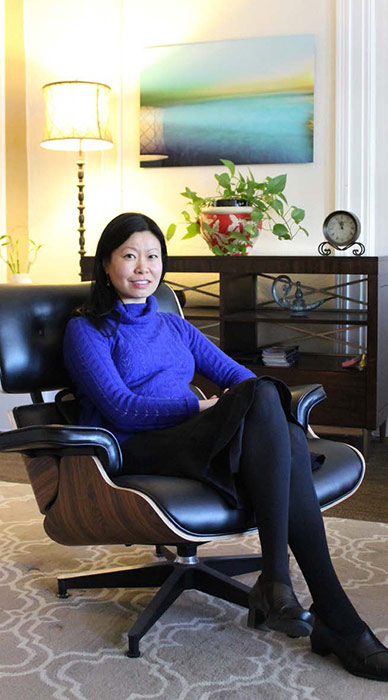 "Healing the Mind – Central Coast Psychiatrists
Push the Boundaries of Their Disciplines"
by Elizabeth Schwyzer.
Source: Central Coast Medical Society
Joann Ng, M.D. – Treating both mind and body
The 600 block of State Street in downtown Santa Barbara is lined with retail stores and eateries. On an average weekday, tourists wander toward the beach while locals make their way purposefully to their destinations and a steady stream of traffic slides by. It's easy to overlook the Fithian Building, a graceful relic of the late 19th century that stands quietly in the middle of the block.
It's here, one story above the city's busiest downtown street, that Dr. Joann Ng bases her psychiatric practice.
To step inside Ng's office is to enter a tranquil zone: potted plants frame the spacious room, and soft light spills onto sleek, mid-century furniture. The air carries a slight scent of essential oils.
Born and raised in New York City, Ng relishes creating this type of oasis in an urban setting. Although she offers traditional psychiatric treatments involving psychotherapy and medication, she also encourages some patients to explore relaxation techniques including meditation, yoga, hypnotherapy, and chi gong.
"I'm a strong believer in the mind-body connection," Ng explained, adding that not all cases call for such approaches: "We cover the basics first."
Having worked in public and private hospitals as well as academic settings, Ng has seen a wide range of patients and become familiar with many models of care. Yet when asked what drew her to the field of psychiatry, she said nothing about assessment, diagnosis, treatment, or medication. Instead, she talked about her love of a good story.
"I've always been interested in people and stories, the written and spoken word," she said.
As an undergraduate, Ng studied English literature; at Mount Sinai School of Medicine, her first rotation was psychiatry. It soon became clear that this was the field for her.
"Psychotherapy is very much about people's stories: the stories they tell themselves, the stories they tell others, the stories I hear from them," she said.
Though those stories vary greatly, Ng said she sees some themes in her practice. Currently, her interest is in identifying and working with trauma, which she sees as pervasive in the modern world.
"I think we live in an increasingly traumatic society," Ng said. "It used to be thought that post-traumatic stress disorder was only present in combat veterans, not in civilians. But that's not the case. It doesn't have to be a shooting or an auto accident," she said, noting that many people are subjected to trauma repeatedly in their homes, at work, or through media consumption.
"A trauma is any event that causes one to feel overwhelmed, shocked, terrified, and/or helpless," Ng explained. Treatments for trauma vary, but Ng noted that relaxation techniques can be very effective.
"I always start with an assessment: Does this person need hospitalization, outpatient treatment, or medication? What happened before and during the trauma? What are the effects or symptoms?" In less severe cases, she noted, "hypnotherapy and guided imagery can help people feel more safe, whole, or complete."
Like Murphy, Ng noted the national and local dearth of psychiatrists and expressed concern for the future of the field. "Mental health care is fragile and vital," she said. "There's such a huge need for so many different facets of psychiatry, but there are not enough resources. It's a hard field. It takes a certain amount of training and a certain type of person to be able to navigate the humanities and the science of the discipline, to be able to access the suffering and the story, and also diagnose and prescribe."
Ng also acknowledged that there's a scarcity of female psychiatrists nationally and locally. By contrast, the Central Coast boasts no shortage of clinical psychologists and MFTs, both male and female.
As Ng sees it, the primary reason to seek treatment from a psychiatrist rather than a psychologist or MFT is the psychiatrist's depth of experience in diagnosing disorders and prescribing treatments. Psychiatric training, she added, generally exposes practitioners to a wider range of clinical cases than a clinical psychologist or therapist ordinarily sees. "Psychiatrists are uniquely positioned to see the full range of mild to severe cases," she explained, noting that while some patients work with multiple mental health professionals, treatment is found to be most effective when delivered by a single practitioner rather than a team.
Having worked on both the East and West Coasts, Ng reflected on the cultural differences between the regions. "New York City is the headquarters of psychoanalysis, so it's a little more revered there," she said. "Here, people are more accepting of the psychological benefits of a healthy lifestyle: things like healthy eating, yoga, meditation, and spending time in nature."
In addition to her private practice in Santa Barbara, Ng maintains a practice in Solvang and serves as a consultant for The Dunn School in Los Olivos. Though she doesn't introduce meditation and chi gong to every patient, Ng emphasizes relaxation across her practice.
"Relaxation," she said, "is a big component in helping patients feel safe and present."
By appointment only: (805) 618-8853
Joann Ng, M.D.
Due to Covid-19, all offices (Solvang office, Santa Barbara office, Los Angeles office) are temporarily closed. All appointments are through telemedicine by phone or video.
Office: 351 Paseo Nuevo Fl 2  Santa Barbara, CA 93101
Fax: (805) 456-0272
Dr. Ng is not on any insurance panels except for Cottage Health and on panel provider with Managed Health Network / mental health carrier for most HealthNet medical plans (excluding HealthNet Federal Services). She is an out-of-network provider for all other major insurance plans. She is not a Medicare or Medical Provider. Please check your coverage benefits with your insurance plan directly. Some insurance plans will reimburse patients for a portion of the billed amount. A "superbill" receipt can be provided to you so you can submit for insurance reimbursement. Our office can also do courtesy claims submission to insurance companies on your behalf if you like at no additional cost.