Due to Covid-19, all offices (Solvang office, Santa Barbara office, Los Angeles office) are temporarily closed.
All appointments are through telemedicine by phone or video.
Dr. Ng is a California-licensed psychiatrist, board-certified in adult psychiatry by the American Board of Psychiatry and Neurology since 2006. She graduated from Mount Sinai Medical School in NYC and completed internship and residency training at Harbor-UCLA Medical Center in L.A. She is well trained in Eastern and Western medicine approaches to mental health and has been educated in a broad range of psychotherapy modalities.
Dr. Ng seeks to understand her patients from different perspectives with the goal of helping patients deal more effectively with stressors associated with symptoms. Her goal is to offer the best treatments available, along with support, guidance and current evidence-based practices. Her approach is results-oriented, holistic, and integrates a mix of cognitive and humanistic psychotherapy styles, with judicious use of Eastern and Western informed medicine when necessary.
Affiliations and Experience:

From 2006-7, Dr. Ng was the Director of the Adult Attention-Deficit / Hyperactivity Disorder Clinic at North Shore- Long Island Jewish Medical Center in New York City. From 2007-9, she was the Founding Medical Director of the Harbor- UCLA Wellness Center in Carson, CA. Since 2009, she has maintained a solo private practice. She has also served as consulting psychiatrist for Torrance Memorial Hospital, and currently serve as a consultant for The Dunn School in Los Olivos, where she performs psychiatric evaluations and medication assessments for students on campus. In addition, she believes in the power of mind-body interventions and has extra training and experience with utilizing medical hypnosis and guided imagery for improving quality of life issues such as psychosomatic concerns, pain management, pre/post surgery, stress reduction, TMJ, relaxation training, and ego strengthening.
In her free time, she enjoys traveling to new places, reading about expanding consciousness, practicing qigong/ yoga and writing in her garden.
Currently, she sees patients in 2 office locations: Santa Barbara and Solvang.
"One of the most valuable gifts is to understand and appreciate oneself."
Dr. Joann Ng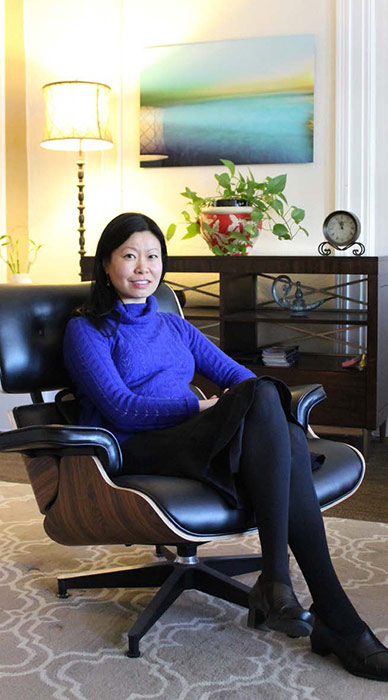 Comprehensive Psychiatric Evaluation, Diagnosis & Treatment Plan (age 15 and over). Psychopharmacology/ Medication Assessment and Management for ADHD; Anxiety Disorders: Generalized Anxiety, Social Anxiety, Panic Disorder, OCD; Depression Disorders; Bipolar Disorder; Post-Traumatic Stress Disorder; Psychotic or …
Please call our office at (805) 618-8853 or fill out our contact form and our office will contact you within 48 hours. If we don't contact you within 48 hours please call the office.
"Healing the Mind – Central Coast Psychiatrists Push the Boundaries of Their Disciplines"
by Elizabeth Schwyzer.
Source: Central Coast Medical Society
Joann Ng, M.D. – Treating both mind and body
The 600 block of State Street in downtown Santa Barbara is lined with retail stores and eateries. On an average weekday, tourists wander toward the beach while locals make their way purposefully to their destinations and a steady stream of traffic slides by. It's easy to overlook the Fithian Building, a graceful relic of the late 19th century that stands quietly in the middle of the block…
By appointment only: (805) 618-8853
Joann Ng, M.D.
Due to Covid-19, all offices (Solvang office, Santa Barbara office, Los Angeles office) are temporarily closed. All appointments are through telemedicine by phone or video.
Office: 351 Paseo Nuevo Fl 2  Santa Barbara, CA 93101
Fax: (805) 456-0272
Dr. Ng is not on any insurance panels except for Cottage Health and on panel provider with Managed Health Network / mental health carrier for most HealthNet medical plans (excluding HealthNet Federal Services). She is an out-of-network provider for all other major insurance plans. She is not a Medicare or Medical Provider. Please check your coverage benefits with your insurance plan directly. Some insurance plans will reimburse patients for a portion of the billed amount. A "superbill" receipt can be provided to you so you can submit for insurance reimbursement. Our office can also do courtesy claims submission to insurance companies on your behalf if you like at no additional cost.